For Immediate Release
February 6, 2015
RIVERSIDE, CA – Complete Coach Works (CCW) is pleased to announce it has begun the delivery of 21 rehabilitated Zero Emission Propulsion System (ZEPS) powered electric buses to Indianapolis Public Transportation Corporation (IndyGo).
As the world's first and only of its kind, the remanufactured ZEPS buses are rebuilt with lightweight flooring, lightweight seats, low resistance tires, energy-efficient heating and cooling to ensure a range of 130 miles on a single battery charge. Each 40 foot electric bus carries 36 seated passengers plus standees and is equipped with air operated doors, brakes, suspension, hydraulic power-steering, stainless steel bike racks and LED lighting.
"With the industry's current drive towards developing efficient green technology, it is exciting to be able to provide transportation agencies a way to double their fleets or reduce their purchasing cost to half, both within the same budget," said CCW Vice President Richard Sullivan.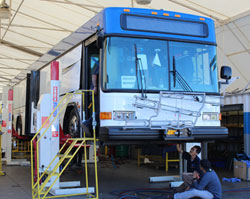 The ZEPS powered buses create significant life cycle carbon savings by eliminating activities involved in manufacturing a new bus. CCW's clean all-electric ZEPS drive system replaces the original drive system on existing traditional diesel buses, resulting in operational savings that benefit the environment. IndyGo will receive what will be the country's largest remanufactured electric fleet at a fraction of the cost, helping the Indianapolis residents and visitors reach their destinations on cutting edge, clean technology vehicles.
ZEPS electric buses also:
Reduce the nation's reliance on foreign oil
Use electricity from the grid, a renewable energy source
Serve as a viable alternative to fossil fuels
Eliminate hazardous waste and reduce air pollution
"This project is coming at a time when our ridership is at a record high, with over 10 million trips in 2014. The project is another opportunity to show the forward thinking and progressive work being done, creating more interest in public transportation," said Mike Birch, Chief Operating Officer at IndyGo.
With recent recognition by the South Coast Air Quality Management District for Advancement of Air Pollution Technology and by BusCon for Best Green Initiative, CCW is confident the ZEPS powered buses will pave the way and advance the goals of transportation providers to protect their communities and the environment.
Indianapolis Public Transportation Corporation is an Indiana-based municipal public transit corporation providing more than 10 million trips in Marion County on 31 local routes with 155 buses in its fleet.
Complete Coach Works is the largest U.S. bus remanufacturing and rehabilitation company and the leading provider of a vast array of transportation solutions with over 28 years of dedicated service in the transportation industry. Not only is CCW a pioneer in the business, but continually strives to provide cleaner air through innovative design and engineering resulting in the world's first and only remanufactured all-electric battery powered bus. Developed exclusively by CCW, the ZEPS technology was integrated in order to provide customers an affordable route to eco-friendly transportation, potentially revolutionizing the transportation industry while supporting the environment for future generations. Regardless of how small or large the job, CCW provides an exceptionally experienced team of over 350 experts, committed to customer service and satisfaction. For more information about the ZEPS electric bus and other services, please visit www.CompleteCoach.com/electric-bus.