RIVERSIDE, CA – As work progresses on the 57 bus rehab we have been working on for AMA, the Puerto Rico bus system, it is with great pride that we accepted a new contract for work on ten RTS buses. The work will include a complete rebuild of the cradle including a remanufactured Series-50 engine, a rebuilt transmission, new radiator and CAC system and all new accessories and hoses. The buses will also get all needed body work done before receiving a new paint job and decals reflecting AMA's latest colors and graphic design.
We are proud and excited about this new contract and the opportunity to continue to participate in AMA's process of upgrading the quality and appearance of their bus fleet.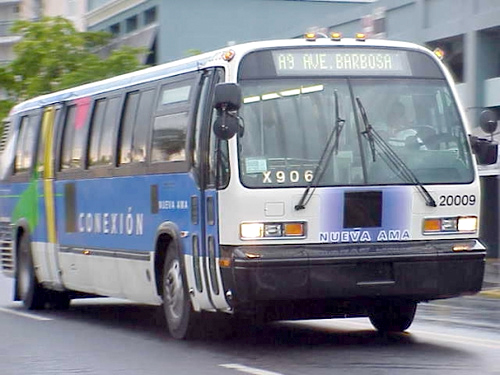 Like the current 57 bus rehab, the RTS bus project will remain on the island of Puerto Rico without incurring expensive shipping charges and an additional delay time of 20 days per bus, the potential for shipping damage is eliminated and AMA is spared the expense of sending inspectors on costly site inspection trips.
Complete Coach Works will also continue to use the local workforce to benefit the economy on the island, which has struggled, like so many others, from high unemployment and budget cuts.
The Metropolitan Bus Authority (AMA) operates 37 routes, which serves municipalities of San Juan, Carolina, Bayamon, Trujillo Alto, Guaynabo, Toa Baja (Levittown Area), Catano and Loiza. Each weekday the AMA reaches over 41,000 transit users in various metro areas on the island, and has an active fleet of 217 buses with air conditioning which provides comfortable and safe transportation to passengers.
Complete Coach Works offers a vast array of solutions for your transportation needs, and for over 25 years we have provided peace of mind to thousands of customers by being their one stop shop. Whether your need is for collision repair, a complete interior rehab, or converting your fleet to alternative fuel or hybrid propulsion systems we have the necessary experience to make each job a success.