Prison Transport Bus (Detainee Bus) – MC-12 Bus for Sale
Description:
The MC-9 Prison Transport Bus has been a flagship vehicle for the Sheriff, Border Patrol, and numerous other Governmental Agencies over the years, and is the bus of choice when transporting detainees with the highest degree of safety and security.
This transport vehicle for sale has everything you may need, and can be equipped with radio communications, global positioning units, additional restraints and weapon storage, and other emergency equipment. These vehicles have solid steel constructed cages, sliding segregation cages, steel caged windows and components, and a main prisoner area for low risk detainees.
Safety and reliability are the two most important features of your detainee transportation vehicle and there is no better bus to handle detainee transportation better than this MCI. Side facing seats are positioned for the guards which allows them to keep order and maintain control at all times.
We perform a 50 pt inspection on all our buses and offer options for upgrades including paint, upholstery, destination signs, and particulate filters/emission services on each delivery. Please call our expert sales staff to discuss which used buses for sale best meets your transportation needs.
Transit Bus Specifications:
Model:

MC-12
Year:

1998
Engine:

Cat C-10
Transmission:

B500R
Length:

40
Width:

8
Passengers:

46
Seating:
A/C:

Carrier
Wheelchair:

No
Wheels:
Tire Condition:
In Stock:

1
Request a Quote: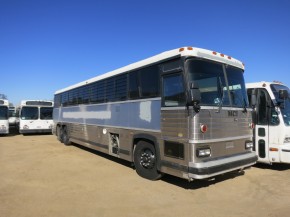 Additional Images